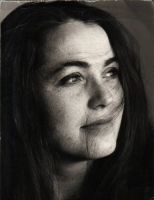 Interview with Isabel Storey
Published 2014-04-14.
When you're not writing, how do you spend your time?
Reading, gardening, watching TV, Facebook. Oh dear. That does sound like an inactive life! I get up in the morning and on three of those I go to a local gym for an hour. Am usually home by 7.00 am unless I have some shopping to do. Home to full coffee pot, squeeze two oranges, avocado on toast, water the garden, check emails, read the Guardian, Check Facebook, and THINK what writing I should be doing! When I do get stuck in, am there for hours – at the moment trying to work out the best way to handle all (or most of) the material not included in "The Trustees".
Afternoon finds me with my feet up and either book or remote control in hand. Too frequently nod off for a while then find I am awake for hours late at night and into the early morning. That's when the radio goes on and I listen to late night talk-back shows.
How do you discover the ebooks you read?
Mostly through contacts within Google+ circles. I belong to the Scrivener Community and the Writer's Discussion Group and dip in and out of other communities – but these two are my mainstay and source of recommendations.
Do you remember the first story you ever wrote?
Oh, yes.
I was in hospital – St Lawrence's Bodmin Psychiatric Hospital in 1963. The night nurse was on the opinion everyone should be in bed and asleep (preferably sedated) for the duration of her shift. That day I had been given permission by the doctor to stay up as late as it took me to write and complete a story – she could not refuse.
So, although it was not long – it was the story of a man who had ridden horseback from his drought ridden outback property to a hill overlooking his father's home. He sat on the hill smoking a cigarette. His father sat in the darkness of the farmhouse verandah and saw the pin prick of the lit cigarette and knew his son was sat there. The father was anticipating the young fool would admit the life he had chosen was too much and come down and join him at the farm and take over from there. The young man's thoughts knew him to be tempted, but recalled the beauty of the outback after rain and the sudden bursting of wild flowers and how there is nothing on earth to compare with the wonder and splendor of it. He rides away. His father wakes in the cold dawn, alone.
Said the psychiatrist – clearly I was not about to choose any easy path and was discharged that day. Another told me that what I needed was not a psychiatrist but a solicitor.
What is your writing process?
First and foremost, I am a plotter. An idea takes seed, often within a dream, is left to germinate, flourish and begin to flower. At that stage I will begin a careful transplantation onto the page. I do not allow weeds to grow and overshadow the shape and direction of the story. In other words I am not a pantser. The nearest I come to writing from the seat of my pants is to focus on an aspect of a piece of the story and free-think – even free-write in an effort to peel something back to find the hidden centre of a bud or fruit and better catch the essence of what I want to get across. I am making a point of writing in the present tense and have to catch myself as it is SO easy to slip into past tense in the telling. I write as if the action is taking place on a stage or film set before me. I only describe that which is necessary to progress the story.
When I think/believe I have the story down as I want it told, then I run the text through SmartEdit, then through Stylewriter and attend to the points raised within each of those two editing programs. I would not expect to have to write more than a third draft if I take it carefully along the way. then with a ruler along each line, I read the document word for word in reverse out loud.
If I can find someone or two or more to read at this stage I think that's great. Trouble is, almost everyone I know well enough to ask is also writing their works. At some stage, that's it. I have more I wish to write and were I to polish each phrase into a brilliant sheen it is likely to lose some edge.
As for when I write – pretty well when I want to and for however long it takes at the time. As I do not write in any mainstream genre I have no expectations of fame and fortune. As long as some folk find my writing a pleasure to read, that's enough. (But I would like to recover any costs such as cover design, etc so am not really in the market to completely give it away free.)
Do you remember the first story you ever read, and the impact it had on you?
Not the first story. As soon as I could read I was reading every book I could find and all those brought home from the library by my mother. This included all the Enid Blyton books, the Fives, the Sevens, the William, etc.
The book I most clearly recall is "Cheaper by the Dozen" authored by two of the twelve Gilbreth family. The concept of making the best use of time has remained with me to this day. I am not quite sure what I plan on doing with all the time saved, but during my working life it contributed to super efficiency to a degree which did not earn me popularity among fellow workers. My last full time office employment found me doing more in one day than three others completed in a week. Furthermore, my work was accurate and the person/people assigned to quality control had me reassigned to another section where the task was regarded as impossible to complete – and having completed it I sat at the terminal and could not stop crying – overcome by sheer boredom. I resigned while on sick leave and then used that time to begin writing short storiues.
How do you approach cover design?
After some tellingly amateur attempts and failure to comprehend how to use GIMP, etc I am now prepared to adopt the expertise of graphically minded persons. The cover for "Earning Purple" I found on theautorssecret web-site. For "The Trustees" I found this cover through Humble Nations at Goonwrite. Had planned on commissioning a cover for a print version of a collection of poems (and one short story) but am having to husband resources pending a week long series of tests on the old ticker and so have used Createspace's Cover creator.
When/If ever I get the time I would like to learn how to use a program like GIMP – I guess it would help were I to read the manual downloaded on my Kindle?
What do you read for pleasure?
Varies. Not romances. Not paranormal. Not vampires.
Used to read a lot of science fiction – parallel universes and characters dodging between.
Enjoyed reading sagas – Icelandic, others the names of which I have forgotten but would recognise.
Enjoy historical faction – inspires to retain information about history.
Am, getting very, very picky these days. The more I work on my own books the more critical I have become of other writing. Almost at the point of being able to predict the following of story telling formula. I do so like and prefer that my prediction is wrong and that the author has surprised me.
What is your e-reading device of choice?
To sit back and relax – the Kindle. I can read on my Samsung phablet, this laptop and another in the other room (supposedly reserved for social haha).
I use a second screen so when on a learning curve with something like Scrivener – I have a manual on one screen and the program on the main screen.
Describe your desk
My pride and joy. A corner desk. First placed in its 'permanent corner', BUT had to be moved when air conditioning installed and being blown away at desk. Finally the only place it could go is in my bedroom – just as well it fits. Enables me to bounce out of bed, turn on the computer then get on with the day. Cluttered? Every thing I need at hand.
What's the story behind your latest book?
Following the account of the discovery and execution of a Will drawn up in South Africa in 1901, discovered in Western Australia in 1960 with designated partner in Scottish legal practice tasked as Executor.
To quote an early reader (Rebecca Ritter)
Journey into the lives of old families who possess both power and good fortune. More specifically the consequences of lost family heritage from the secret passions, wandering lust.and lies from men of days past. Marvel at the web of secrets that creates a ripple effect carrying forward through time continuing through generations and across continents. Watch through the eyes of Peacock & Oates, Dumfries and their fiduciary relationship to long lost clients who they themselves know not the true identity of.
Every single sentence and letter takes you a little closer to the truth and at the end leaves you satisfied, yet wanting more. Especially of the Gypsies and the unspoken bond between women that serve to protect both the lies of men and the children they bore. Behind the secrets, hidden doors and buried treasures,
What motivated you to become an indie author?
My experience of the poetry scene in London in the 60's and early 70's left me a tad cynical – so much rested on who knew whom and more than a little luck and nepotism. As an Australian, I felt I would never have the 'in' which I saw functioning around me. The reason my poetry (successfully) hit the desk of a BBC producer was because her husband's best friend had me enthralled and she felt sorry for me! Okay, my work had to be good enough to use, but that connection slid it through the system. Back in Australia, in a state new to me, I found myself feeling on the outer in the local poetry scene. Remarks that I was a 'hard act to follow' at readings did not translate into the camaraderie which seemed to surround those persons whose poetry was selected for publication.
Basically, I am a shy person who learned to put on a good front, but is happier in solitude. My experience of participating in a writer's retreat for a week had the effect of my blood pressure being sky high for that week.
It was during a writer's workshop I discovered the existence of Smashwords. Within a week I had cleared my files and uploaded previously written works on-line. I was the first within the local group to have published on-line and am now told I have inspired others to do so.
I am of a generation when self praise is no recommendation. My natural inclination is not to big-note myself. I am however, patient. Furthermore, I have now identified my readership as those who have intelligence and an interest in their spiritual well-being. This is not the greater mass target for print publishing, but can and will be found on-line over time.
How has Smashwords contributed to your success?
Smashwords guidance through its Style Guide has been the great enabler in facilitating the publication of material which had been sitting in my computer system/s since the days of dos-cpm. My experience of print publishers was (a) that a reader absconded with my manuscript and no-one knew how or where to find her, and (b) a print on demand publisher who published one work (poorly illustrated) who wanted first refusal on next three manuscripts.
Smashowrds operates honestly, openly and meets all obligations required of it. While never a fortune, I have welcomed those deposits into my PayPal account over the years.
What is the greatest joy of writing for you?
It is a wonderful feeling to finish something! Then to go back over it and find something to tweak an improvement.
What are you working on next?
A series following on from "The Trustees" filling in the stories behind the documents alluded to within that book. Then I would like to go back and reformat earlier works – "Life Before Lithium" and "The Whens of Wittenoom" to make them more accessible. One of the short stories has been separately published as "Earning Purple" and I am toying with the idea of doing the same with another – depends on finding the right cover – learning how to design one?
Have planted the seeds for another series in the back of my mind – I know the general gist but it will sit there until it grows into something I can grasp.
Who are your favourite authors?
Referring to the list I am compiling on my phablet :
Bruce Venables
Justin Cartwright
Phillipa Gregory
Russell Potter (Pyg)
Tess Evans
Daniel Kahneman
Wade Davis
When did you first start writing?
Seriously in my 20's. Before that I had been published almost by accident.
What do your fans mean to you?
A small group of people who have been supportive in conveying and understanding of where I am at and coming from. They have provided encouragement at a time when others have gone duh.
Books by This Author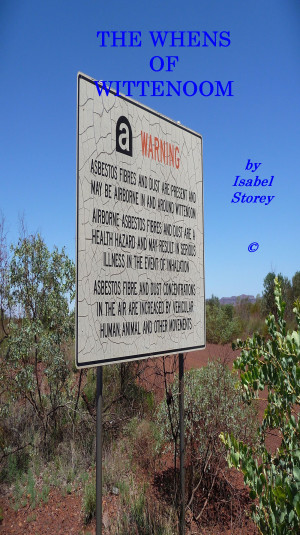 The Whens of Wittenoom by Isabel Storey
 Chronology of the mining and use of blue asbestos from ancient to modern times with emphasis on the events at Wittenoom, Western Australia. This mining has resulted in WA having the highest rate of mesotelioma in the world. Includes comprehensive Bibliography.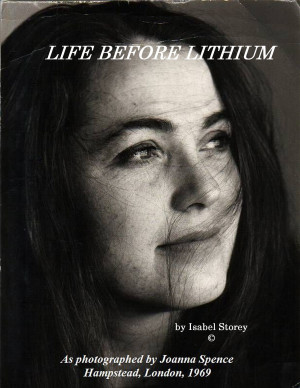 Life Before Lithium by Isabel Storey
 From the comfort and safety of your chair, join the author as she dared to live her dreams travelling through the extremes of bipolarity. Witness the strategies she used to survive the consequences of putting one foot in front of the other while on a path she believes ordained by the Man Upstairs.